Road Safety Audit Policy Development for Local Government
Austroads Guide to Road Safety Part 6 Road Safety Audit indicates that it is desirable for Local Governments to conduct road safety audits on new roads or road upgrades, to be undertaken whenever practicable during the design and construction and pre-opening phases. Resource and cost implications mean that, in practice, their conduct (number and phasing) nearly always needs to be commensurate with the complexity and circumstance of the particular project. Click on the image below to access the new guide.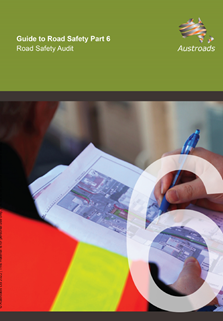 Austroads also indicates that it is therefore important that the stages and number of road safety audits should be documented and defined by each Local Government by creating a local road safety audit policy.


To assist Local Governments in Western Australia to develop a local road safety audit policy, Austroads has produced a road safety audit policy template, which is based on the policy of the City of Melville in Western Australia.


The policy template is endorsed by WALGA and is supported by the Road Safety Audit Panel and its adoption is encouraged for all Local Governments in Western Australia.